Fair Trade USA Certification
Recognizing Sustainability and Equitable Trade Best Practices
What is Fair Trade USA Certification?
Fair Trade Certified™ products provide the rigorous social and environmental guarantees that many retailers and buyers are now demanding. The Fair Trade USA certification model is designed to ensure that trade practices at every level of the supply chain are registered and audited to the Fair Trade USA Agriculture Production and Capture Fisheries Standards (APS and CFS). Fair Trade empowers consumers to support farmers, farm workers, and fishers and to have a positive impact on agricultural and fishing communities through their everyday purchases.
SCS Global Services provides timely, cost-effective auditing services to the Fair Trade USA Agriculture Production and Capture Fisheries Standards (APS and CFS). By successfully completing the Fair Trade USA certification process, your operation can achieve this distinctive recognition to enhance your marketplace value while supporting farmers, farm workers, and fishers and protecting the environment.
As the first certification body auditing to the Fair Trade USA standards, SCS offers services worldwide for a wide variety of agricultural and seafood producers which include fresh fruit and vegetables, coffee, tea, herbs, cocoa, sugar, nuts, oils and butters, honey and spices, beans and grains, flowers, certified ingredients used in ready-to-drink beverages, and seafood.
Why Choose SCS?
SCS offers the strongest expertise in the implementation of the Fair Trade USA Model, built from our long-standing collaboration with Fair Trade USA as the first approved certification body to both programs. We are the certifier of choice, recognized for our expertise, commitment to quality, and transparency.
SCS brings to each client:
•  36+ years of experience in sustainable agriculture and seafood assessment 
•  Regional auditors with experience and extensive industry knowledge
•  Expert support to help you navigate new customer requirements 
•  Exceptional customer service and quick turnaround time 
•  Ability to bundle Fair Trade certification with other food certifications for added efficiency and cost savings
Service Offerings
Certification Process
Benefits
FAQs
APSCA Member
Program Documents
SCS services include certification to the following Fair Trade standards:
Agricultural Production Standard (APS)
Producers certified under the Fair Trade USA Agricultural ProductionStandard demonstrate compliance with requirements in the following areas:
Empowerment
Fundamental Rights at Work
Wages, Working Conditions, and Access to Services
Biodiversity, Ecosystem Function, and Sustainable Production
Traceability and Transparency
Internal Management System
Capture Fisheries Standard (CFS)
Fisheries certified under the Fair Trade USA Capture Fisheries Standard demonstrate compliance with requirements in the following areas:
Structural Requirements
Empowerment & Community Development
Fundamental Human Rights
Wages, Working Conditions, and Access to Services
Resource Management

Trade Requirements
Complementary Services
In addition to auditing farms, estates, smallholders, fisheries, and traders for conformance to Fair Trade USA standards, SCS Global Services offers a wide range of complementary certification services including SMETA, Equitable Food Initiative (EFI), Sustainably Grown, Veriflora, SAI-Farm Sustainability Assessment, Rainforest Alliance, USDA Organic and GFSI benchmarked food safety certifications such as GLOBALG.A.P. & PrimusGFS, GAP or GMP food safety audit.
Apply for Certification

Complete a Fair Trade USA application form (downloadable at https://www.fairtradecertified.org/business/standards/documents/agricultural-production-standard-application) and email the application to [email protected]. Once Fair Trade USA has reviewed your application to ensure eligibility, your application will be forwarded to SCS..

Authorize a Proposal

SCS will review your application and prepare a proposal for your approval with scope of work, timeline and quote. To initiate the certification process, sign and return the Work Order.

Schedule and Prepare for Audit

Upon receipt of the signed Work Order, SCS will work with you to schedule the audit. SCS will provide an audit plan and request documents in advance of the onsite audit.

Undergo Audit

The on-site audit includes document review, worker interviews, and field observations. Draft findings are communicated in the closing meeting. Audit report is sent to client within 20 business days.

Present Corrective Actions

Any issues cited in the Non-Conformity Report (NCR) are addressed by Corrective Action Plans (CAPs) within 30 days. CAPs provide clear evidence that implementation occurred.

Certification Decision

SCS issues a certification decision based on the CAPs prepared by the client.

Receive Certification

SCS provides a Fair Trade certification registration number, certificate, and applicable on-product label. Certificates are valid for 3 years and surveillance audits are conducted annually.
Benefits of Certification
Demonstrate your organization's commitment to safeguard the environment, and the health and well-being of workers and communities
Brand your products as ethical alternatives for values-based shoppers
Establish best practices within your organization for environmental and worker protections
Provide funds for community enrichment projects
Be a part of a global network of FTUSA certified suppliers, exporters, and importers
How will Fair Trade certification benefit our company in the global marketplace? 
Fair Trade USA certification is recognized in the North American market by a large number of retailers including Walmart, Costco, Whole Foods, Kroger.
How long does a Fair Trade audit take to complete? 
The audit duration depends on the number and sizes of sites (farms and facilities) to be included in the audit scope, the different types of produce to include, the worker housing, the subcontractors, etc.
How long does it take to be certified? 
Once SCS receives the client's application from FTUSA, SCS responds with a quote within 1 week. Audit dates need to be scheduled during peak harvest activities and when 50% of the workforce is present. An audit usually takes 2-3 months to plan. After the audit occurs and the audit report is sent out, it may take the applicant 2-6 months to implement and finalize the Corrective Action Plan process. Certification can therefore take 4-9 months to be granted.
How long does Fair Trade certification last? 
A FTUSA certificate is valid for 3 years, but the program requires annual audits. The first audit is an evaluation audit (Year 0), followed by 2 years of surveillance audits (Year 1 and 2), and Year 3 is a re-evaluation audit. By Year 6, the certificate holder is expected to comply with all requirements of the FTUSA standards, and in order to maintain the certification, annual audits will continue to be scheduled.
Is Fair Trade certification only for specific products, or can an entire company or produce become Fair Trade certified? 
Fair Trade certification can be applied to any product. Please consult Fair Trade's list of certified products here. The client may choose what sites, farms, facilities, and produce to include in the Fair Trade certified scope.
Are Fair Trade audits on site or virtual audits? 
Since 2020, we have adopted a hybrid audit methodology that comprises a remote portion focused on document review and management staff interviews, followed by an onsite portion focused on field visits and worker interviews. This is subject to change.
Does Fair Trade certification have any impacts on climate change? 
Fair Trade USA's APS and CFS standards do not have direct requirements dealing with carbon emissions, sequestration, GHG emissions and monitoring. (Refer to Module 4 in the Fair Trade Agricultural Production Standard 1.2.0.)
Does Fair Trade certification have any impacts on environmental protection? 
Fair Trade USA's APS and CFS standards (specifically Module 4) require certificate holders to sustainably manage their pesticide use, water consumption, waste management and have a strong awareness of protected lands, endangered species and enhancing biodiversity.
Does SCS only audit U.S. companies to the Fair Trade Standard? 
SCS works with professional, highly trained and experienced auditors. We have local onsite auditors in the US, Canada, South and Latin America including the countries of Brazil, Colombia, Costa Rica, Ecuador, Guatemala, Mexico, and Peru, as well as professionals in the Philippines who serve our Southeast Asia and Indian clients and auditors in Africa, specifically in Ethiopia, Ivory Coast, Kenya, and Mozambique.
Visit the Fair Trade USA's website for questions related to the standard requirements.
SCS is proud to be a member of APSCA, a professional association promoting the use of reputable independent social compliance audits as a tool to advance workplace conditions globally. APSCA (Association of Professional Social Compliance Auditors) is an industry association, whose members represent a substantial majority of the Social Compliance audit industry. Our mission is to enhance the professionalism, consistency and credibility of the individuals and organizations performing independent social compliance audits.
Apply Now
Ready to start the process? Complete an Application.
SCS Certified Clients
Learn more about the clients we certify and where to find products with this certification.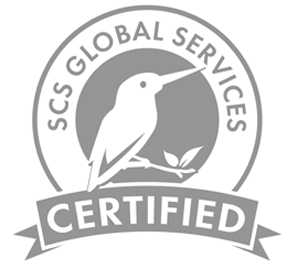 Related Resources
Webinar

Consumers want products certified "clean." What does this mean and how do we get there? Learn how food nutritional…

Webinar

SCS Global Services is a leader in sustainability and provides companies with the tools to demonstrate positive action…

Video

Watch this video to learn about the new process of the 2020 Sustainable Agriculture Standard for supply chain and farms…